Nadia El Ferdaoussi: travel on a budget
6 MIN READ
Guest Blogger: Nadia El Ferdaoussi
Easily the question I'm asked the most is, "how do you afford to travel so much?".
Of course, a lot of it is part of my job, but there are certain sacrifices that have to be made in order to have a healthy travel fund for those all important holidays.
This blog post is about five ways to save money and travel on a budget (there are more tips on last-minute holidays here). I think even if I won the lotto, I'd still look out for a bargain, I'm thrifty and not ashamed of it.
Over the past couple of years travelling I've learned some useful ways to save money and picked up a lot of budget travel tips along the way.
I'm going to break it down into five ways to save money and travel on a budget.
1. Saving money for travel: 
The first and most crucial thing for me is knowing the importance of experiences over things.
A designer bag, new outfit for the weekend or a fresh pair of trainers might be nice in the moment, but when the novelty wears off, they aren't things you're going to remember long-term and tell the grandkids.
No good story starts with; "let me tell you about that time I wore brand spanking new Nike Air Max…".
But, "that time I drove down the California coastal road in a bright green and purple camper van with a friend I met in a homestay in the countryside in Thailand", might keep someone's attention a bit longer.
So, to save money I skip on frivolous stuff.
When you buy clothes, go for good quality basics you can mix and match and never go out of fashion.
Trends change too fast and you'll want to keep updating your wardrobe, it's an expensive habit and one that can leave you all dressed up with nowhere to go if you've spent all your money on things and have nothing left for the experience.
When I'm in savings mode I limit eating out, a week of take-away coffees, lunches out and snacks on the go could easily set you back over €100.
A quick flight search found return flights (more on that later) from Dublin to 26 countries for under a hundred euro. Simple maths and a no brainer.
Malta, Croatia or Spain would be my top picks.
Make sure all that money you're saving is going somewhere safe though, to minimise the urge to spend it, keep it out of sight and therefore out of mind.
The easiest way to do this is to set up a standing order from your current account into a separate savings account.
Start with a small amount weekly, something you won't even notice like €25 a week.
If you kept that up for a year, you'd have thirteen hundred euro in your travel fund without making any real changes to your lifestyle.
You know what that'd buy you?
Return flights to Jamaica and two weeks in an all inclusive beach-front hotel.
Yep, long-haul flights to the Caribbean and all you can eat and drink on a tropical island for 14 days and nights. Just sayin'.
2. Travel Money:
It's so important to get the best deal when it comes to travel money or you could end up wasting a lot on unnecessary charges.
So, keep an eye on fluctuating exchange rates, check commission before changing money and make sure you're aware of ATM fees abroad.
I also never travel without a credit card, both for emergencies and the travel perks they offer.
For anyone studying in Ireland, Bank of Ireland have introduced their Student Credit Card which is easy to apply for online and they offer an emergency cash advance service if you lose your card while you're away.
This has happened to be more than once, so that peace of mind is invaluable.
Speaking of which, another thing I never leave home without is travel insurance and here's the best bit, the card comes with free worldwide multi-trip travel insurance for 120 days.
It covers stuff like lost passport or luggage, cancellations, accidents etc.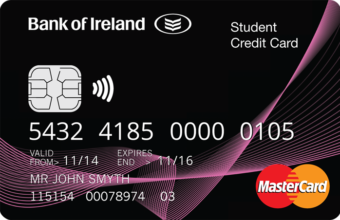 Bank of Ireland also offer a student loan, so there's something to fall back on if you don't save enough in time for your trip.
3. Transport:
You've got to be smart when it comes to getting around while abroad. I always find Lyft and Uber much cheaper than taxis, so use them when I can't find an easy route on public transport.
For example in America, unless you're in a big city, they might be the only way of getting around without a hire car.
You can get your first ride free with these links if you're a new user of either app; Lyft / Uber.
If you're planning a J1 summer in the States and want to do a road trip, lots of rental places will charge extra if you're under 25 and that surcharge can add on around $27 a day!
I've found a cool and cheap alternative though, JUCY RV rentals are easily the cheapest form of transport I've come across with relocation deals from $1 a day!
Plus, you can sleep and cook from the camper van, saving even more money.
I'm doing a road trip along the Pacific Coast Highway in February, follow my Snapchat story or Instagram feed to see how I get on.
What about flights, how did I find those cheap ones above?
I only ever use Skyscanner when I'm looking for cheap flights (if you've got a better way, let me know!).
I just like the ease of use of their website and app and the filters like searching 'cheapeast month' or 'everywhere' as the destination. I found a flight from the U.S. island of Puerto Rico in the Caribbean to London for €85 using this function and one from London to Boston for around €75.
Once you can be a bit flexible with dates and routes, you'll open yourself up to a lot more affordable options.
I know I can get a cheap flight from Dublin to pretty much anywhere in the UK, so when I'm flying long-haul I enter 'United Kingdom' in 'From' and 'United States' (for example, rather than a specific state) in 'To', then select 'cheapest month' and see what comes up.
You'll be very surprised at the results!
4. Accommodation:
An obvious choice is to stay in a hostel, I like Hostelworld for finding the best locations (like this incredible one in Puerto Rico).
If you're travelling alone, they're the best place to meet people.
Lots of hostels offer free breakfast and deals on day trips and tours.
Plus they often have well equipped kitchens where you can make your own meals and share travel stories with new friends over a (cheap!) homemade dinner and some beers from the supermarket.
If communal living isn't your thing, search 'entire home' on Airbnb. I've found some really unique places, like this cabin in Tennessee on Airbnb and got really good deals including £25/€30/$35 off your first booking with this link.
5. Food and drink:
Living in a hostel or camper van will sort out cheap food and drink, as you'll be able to shop for your own groceries instead of eating out for every meal.
If you're staying in a hotel, try find one with free breakfast because a good start to the day can keep you going for hours and save a lot of money.
It can often be very pricy meal to eat out when you add up everything like coffee, juice, tip etc.
Bring a packed lunch like a sandwich or salad, some fruit, snacks and water on beach days or if you've got an activity planned. It also saves valuable time trying to find somewhere decent and will avoid expensive disappointments if you choose the wrong place.
Always, always carry a refillable water bottle.
Most airports, bus and train stations will have public water dispensers and I've never been told 'no' when I've asked staff in a bar, restaurant or coffee shop for a refill.
Just make sure it's empty going through airport security and fill it up airside, you can even ask cabin crew on your flight and avoid expensive and unnecessary purchases of bottled water everywhere you go.
That's one of my favourite ways to save money and travel on a budget and you'll find ten more hacks here.
All views expressed here are Nadia's own. 
Lending criteria, terms & conditions apply. Over 18s only. Bank of Ireland is regulated by the Central Bank of Ireland.
WARNING: IF YOU DO NOT MEET THE REPAYMENTS ON YOUR LOAN, YOUR ACCOUNT WILL GO INTO ARREARS. THIS MAY AFFECT YOUR CREDIT RATING, WHICH MAY LIMIT YOUR ABILITY TO ACCESS CREDIT IN THE FUTURE.
WARNING: THE COST OF YOUR MONTHLY REPAYMENTS MAY INCREASE.
All efforts were made to ensure that the information in this article was accurate at the time of original publication. The content of this article do not constitute financial advice.
Bank of Ireland is regulated by the Central Bank of Ireland.